News | 26.05.2022 | By: Jo Grange
Have your say on future plans for people with brain injury
We need your help to shape the government's plans for supporting people with brain injury. As a small charity overwhelmed daily by callers from across Sussex asking for support. We know how much help is needed.  We're asking all our Sussex partners and others to share your views by taking part in the call for evidence.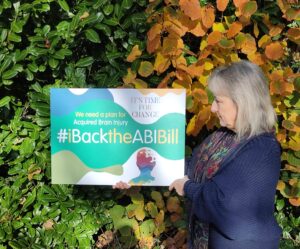 The ABI Strategy plan announced by the government in December 2021, is co-chaired by our Sussex MP for Chichester Gillian Keegan, who is also Minister for Care and Mental Health. Headway UK and brain injury charities across the nation are also backing this.
The government needs to hear the views of people living with a brain injury, family carers, charities and all professionals as part of the consultation. Rather than a formal consultation on specific proposals, the call for evidence is a request for ideas for developing the Strategy recognising that people living with ABI need support from a range of services.
Everyone completing the survey will be asked what the strategy should cover to provide better support, including but not limited to health and social care, community support, access to employment opportunities and benefits and housing.
"At last we will be having a national plan to help meet the needs of people affected by brain injury" said Jennie Musgrove, CEO, Headway Sussex. "We need to hear from everyone who knows how difficult life can be and understands the real lack of support across communities. The Headway Sussex team sees this impact everyday. Please speak up to help us achieve change nationally and locally."
The government needs people to come forward with ideas and suggestions based on their experience of brain injury as practitioners, patients or family carers so we can get this strategy right. We urge everyone to take part.
One Headway Sussex client, Ian, a member of our Future & Wellbeing Group went along to the launch in March with his wife Maxine. He spoke about his challenges of seeking medical help post-injury and navigating the benefits system. There was a real commitment at the launch to make things better.
To complete the survey please follow this link.
Thank you for helping us shape the future for people living with brain injury.
The Headway Sussex Team.